In February 2016, two people died in a Virginia marina when dozens of boats caught fire in the early morning hours. In September 2019, 34 people died off California's coast when the dive boat they were on caught fire while they slept. In January 2020, eight people in an Alabama marina died when dozens of boats caught fire in the early morning hours, also while most people slept.
These incidents, and other similar ones, highlight several precautions that the boating community should take to prevent similar fires. Precautions are especially important in liveaboard or marina communities and for occupants with limited escape options during an emergency.
Fire onboard: how to be prepared
Generally, the best defense against fire is prevention. Encourage liveaboard boaters in your community to take these fire safety precautions:
On the boat
Install smoke and carbon monoxide alarms to alert occupants to a fire.

Have a fire emergency plan and practice it.

Inspect electrical wiring, connections, cords and battery-charging equipment to ensure they are installed properly and in good condition.

Have the appropriate fire extinguishers and make sure they are easily accessible. Train all boaters on how to use them.

Check your cooling and exhaust systems. Make sure they work properly.

Turn off portable heaters when you leave the boat or go to sleep.

Only use certified chargers for personal electronic devices. Don't overload power outlets.
In the marina
Ask about the types of fire and emergency features at the marina; including smoke alarms and fire suppression equipment.

Know where the fire extinguishers are located and how to escape.

Smoke only in designated areas away from any fuel-filling or storage areas.

Inspect shore power connections for any obvious signs of damage or improper installations.

Know how to contact help.
If a fire does occur
Alert boat occupants and quickly get to a safe location.
Discharge fire extinguishers from a safe location, or get to a safe location and contact the fire department.
Marina owners and operators
Understanding the dangers that exist in marinas helps to prevent fires and tragic losses. Install alarms to notify occupants and firefighting equipment such as standpipes, hose stations and fire extinguishers so that they are accessible from all areas. Post evacuation diagrams in public areas and designate smoking locations with safe disposal receptacles away from fuel-filling or storage areas. Work with local first responders to develop a relationship and emergency plan.
Inspectors and first responders
Inspectors should determine whether a property complies with certain codes and standards — such as National Fire Protection Association (NFPA) 303, Fire Protection Standard for Boatyards and Marinas — and emphasize the importance of implementing a holistic fire safety plan that includes means of fire detection, alarms, egress and emergency service access.
First responders should familiarize their personnel with their local boating communities' properties and practices. Conduct periodic training sessions with boaters on safe fueling practices, fire prevention and safe winterization. Practice emergency response procedures for boat-related fires to understand the unique configuration, hazards and access constraints for your operations.
---
Need help spreading the word about liveaboard boat and marina fire safety in your community? Download these outreach materials and share them in print or on your department's social media channels.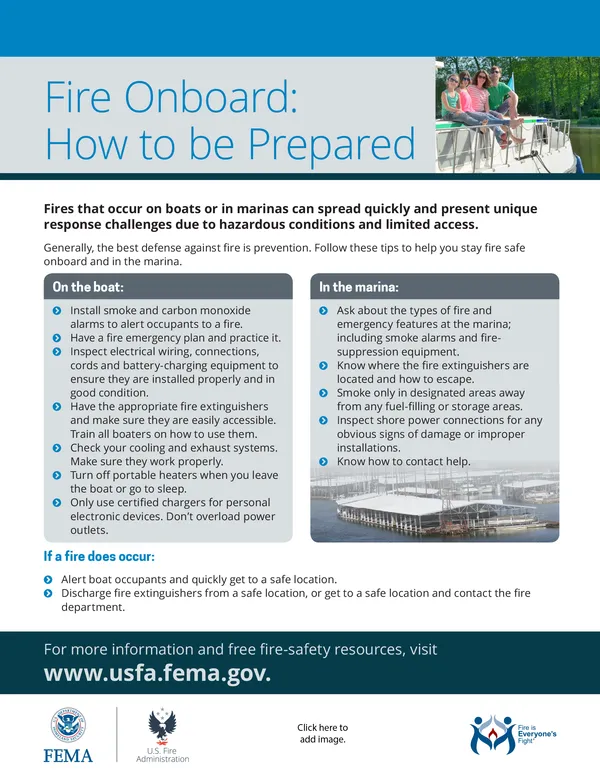 Customize this handout with your logo.
Download the handout
Explore more articles:
Featured articles