Outreach materials and educational programs
Help your fire department increase community awareness about preventing home fires through Fire is Everyone's Fight® and with these free fire safety and prevention outreach materials and educational programs.
Facts About Fire video
Fire deaths can be reduced by teaching people the basic facts about fire. This video contains some simple messages to help you explain to community members the characteristics of fire. See also: social media cards to help share the facts about fire.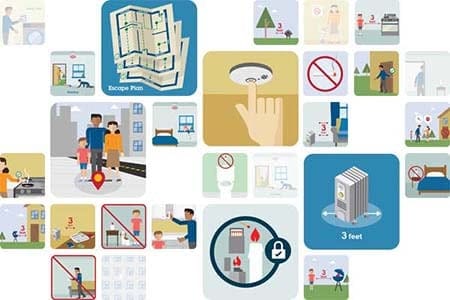 Our pictographs can help you reach everyone in your community with fire and life safety messages.
Learn about pictographs
Digital media library
Here you'll find a variety of copyright-free social media toolkits, pictographs, stock photos, videos and b-roll to increase awareness about fire prevention and safety.
Explore the library
Featured assets: High-rise fire safety
Use these resources by themselves or include supporting content with them to reinforce your fire safety messages.
Featured outreach materials
Handouts to share with your community
High-rise fire safety
Workplace fire safety
Fire safety handouts
For additional materials, browse the audience and topic pages, below.
---
Outreach materials for specific audiences
---
Outreach materials by topic
With the free Fire Safety Materials Generator, you can create customized door hangers, flyers and activity guides using proven fire safety messages with your logo and information. Get started now at strategicfire.org.
---
Educational programs
Planning for public fire education
The role of fire safety educators is complex and each community is unique. Communities vary with respect to fire safety risk factors, target audiences, and resources available. A one-size-fits-all approach just won't work; that's why this toolkit was created. It will lead you step by step through the development or enhancement of your fire safety education program to meet the specific needs of your community.
Whether you are just getting started in fire safety education, or you are a seasoned educator, this toolkit will get you on your way to a successful program.
Fire Safety Program Toolkit
Ready-to-use programs
Fire Safety Trailer Curriculum

Adding a fire safety trailer can take your education program to a whole new level by providing students with hands-on learning opportunities that build upon what they learn in the classroom. This curriculum offers you an "out-of-the-box" way to use a fire safety trailer to teach students of all ages about fire safety.
The "Fire-Safe Seniors" program helps fire departments and other community organizations to plan and implement fire safety interventions for the high-risk group of older adults. It uses home assessments, smoke alarm installation, education and follow-up to ensure a comprehensive approach to fire prevention. A free toolkit is available to help you implement the program.
Information to help you spread the word about safe cooking, working smoke alarms and other fire risks in your community. The presentation includes slides to cover both essential and audience-specific home fire safety information for any community presentation.
The curriculum includes an educator's guide for teachers, a CD of songs and stories, a family guide, a coloring and activity booklet, and a poster to help educators reach preschoolers with simple, memorable fire safety messages.
Using IPAWS for public safety messaging
During an emergency, alert and warning officials need to provide the public with life-saving information quickly. The Integrated Public Alert and Warning System (IPAWS) saves time when time matters most, communicating messages about protecting life and property.
Federal, state, local, tribal and territorial alerting authorities can use IPAWS. By integrating local systems that use Common Alerting Protocol (CAP) standards with IPAWS, officials can alert and warn the public about serious emergencies using the Emergency Alert System, Wireless Emergency Alerts, the National Oceanic and Atmospheric Administration Weather Radio, and other public alerting systems from a single interface.
Learn more and sign up for IPAWS
Modernizing public warning messaging
This video showcases the latest research and provides practical guidance on how to write alert messages. The importance of using multiple delivery methods to promote public action more effectively is also discussed.
More information on the web
Product safety on the web
Alerts and recalls related to fire and carbon monoxide safety.