The U.S. Fire Administrator and principal leaders from the American fire service, in partnership with the Fire Department of New York (FDNY), the Philadelphia Fire Department, and the Washington, D.C. Fire and Emergency Medical Services Department, will stand together on Jan. 10‑12 to speak with one voice to address the fire problem facing our nation.
Scenes from the Fire Stop Tour
Jan. 9: All aboard! U.S. Fire Administrator Dr. Lori Moore-Merrell (right) and fire safety experts depart for the first stop of the Fire Stop Event in New York City. From left to right: Dr. Dan Madrzykowski (Fire Safety Research Institute), Victor Stagnaro and Sean Carroll (National Fallen Firefighters Foundation), Chief Eric Bernard (National Volunteer Fire Council), and Dr. Moore-Merrell.
Jan. 10: FDNY Commissioner Laura Kavanagh (center), along with Dr. Moore-Merrell and other national, state and local fire safety leaders honor those lost to the Twin Parks fire in the Bronx last year. Dr. Moore-Merrell announced a national strategy to address America's fire problem.
Jan. 10: Dr. Moore-Merrell and members of FDNY Engine 65, the Midtown Mob, after today's press event in New York City.
Jan. 11: Philadelphia Fire Department Fire Commissioner Adam Thiel (speaking), Dr. Lori Moore-Merrell and principals of the American fire service gathered in Philadelphia to honor lives lost in the January 2022 multifatality fire in the city's Fairmount neighborhood.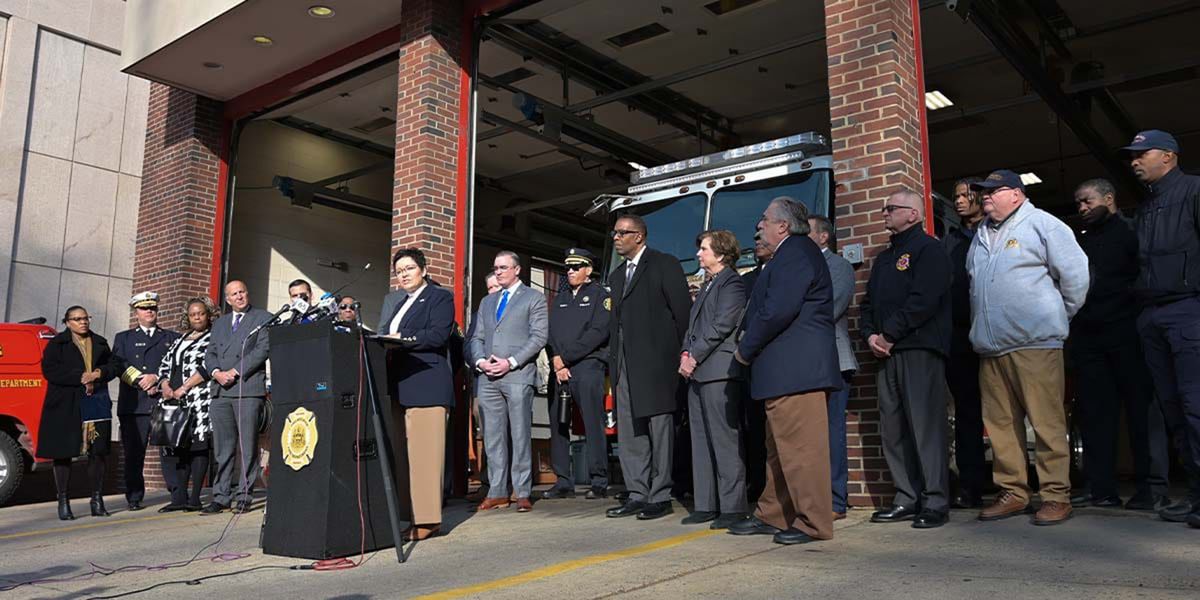 Jan. 11: Invited speakers each addressed a pertinent fire safety issue. Dr. Moore-Merrell spoke about the USFA's national strategy to address America's fire problem.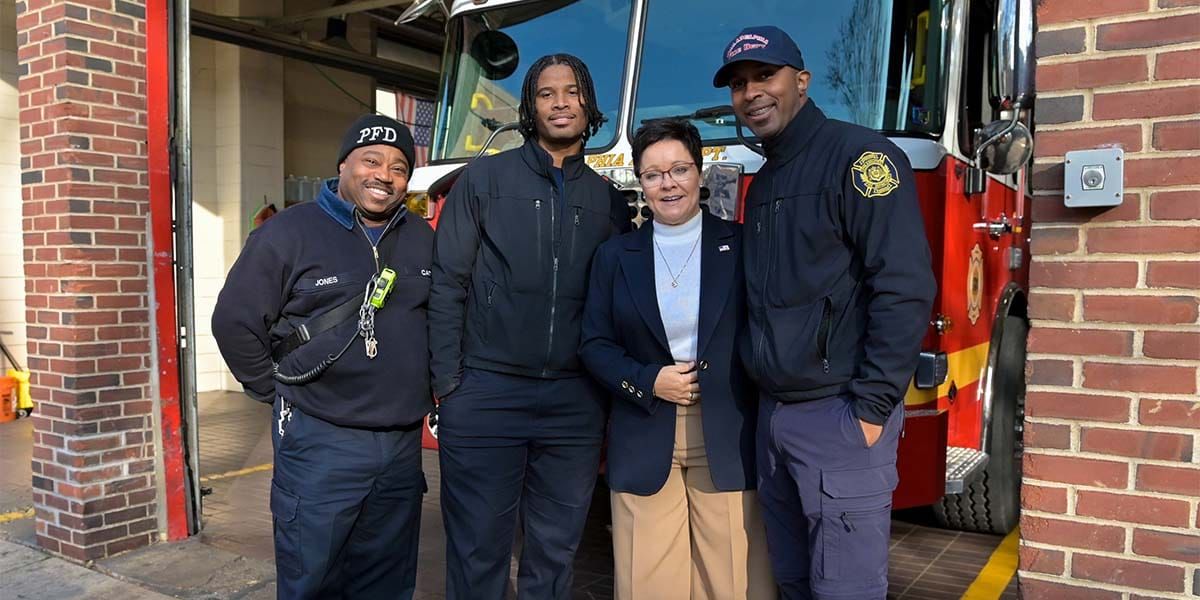 Jan. 11: Dr. Moore-Merrell and members of the Philadelphia Fire Department after today's press event in Philadelphia.
Jan. 12: Washington, D.C. Fire and EMS Department Chief John Donnelly (second from left), Dr. Moore-Merrell and other invited guests listen to remarks from Rep. Ritchie Torres (NY-15) about the Jan. 9, 2022, Bronx fire in his district and the Empowering the U.S. Fire Administration Act.
Jan. 12: Rep. Madeleine Dean (left, PA-4) also addressed the event. She spearheaded legislation that requires smoke alarms not be removed or shut down in homes owned by any authorities that receive Department of Housing and Urban Development (HUD) assistance, or landlords whose tenants receive HUD support.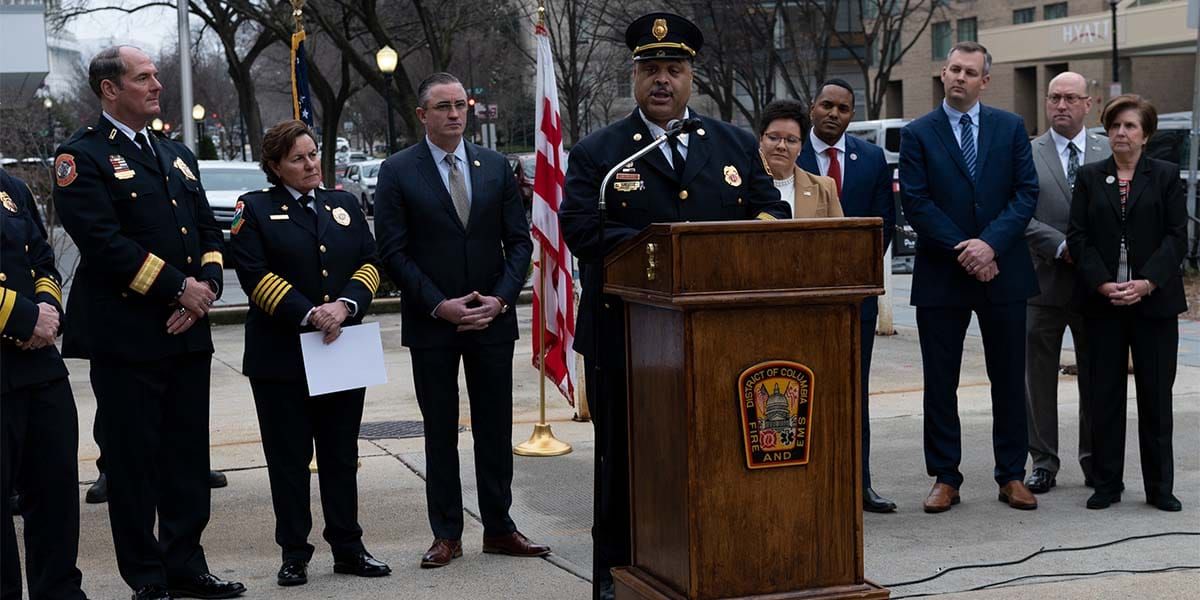 Jan. 12: Washington, D.C. Fire and EMS Department Captain Jonathan Streat speaks to invited guests about his family's experience of losing everything in a home fire. His sister suffered burns over 90% of her body and survived.
Jan. 12: International Association of Fire Chiefs President and Board Chair Chief Donna Black (center, left) and Dr. Moore-Merrell, with members of D.C. Fire and EMS.
Event background
In 1947, President Harry S. Truman convened a gathering from every corner of American society in Washington, D.C., to address the nation's fire problem. President Truman was appalled by several high-life loss fires in hotels and the thousands of smaller fires where Americans lost their lives and property was destroyed. The attendees at the national conference were charged with addressing the problems and developing solutions to reduce fire's impact on America.
Great strides have been made over the past 75 years. Still, Americans continue to lose their lives as we remember the tragic events of Jan. 5, 2022, when 12 people, including 9 children, lost their lives. And on Jan. 9, when 17 people died in the Bronx, New York.
In October 2022, the U.S. Fire Administrator hosted the first Fire Prevention and Control Summit since the 1947 Conference on Fire Prevention and Control hosted by President Truman. The October summit included a roundtable discussion where national fire service leaders made 5 recommendations to national leaders from the Biden Administration. These recommendations now outline the national strategy to address the fire problem in the nation.
Prepare all firefighters for the climate-driven increase in wildfires in the wildland urban interface (WUI) by providing them with the proper training and equipment.
Invest in a national apprenticeship program to address the firefighter shortage and make the fire service more diverse and inclusive.
Establish a comprehensive firefighter cancer strategy that invests in research, provides access to screening for firefighters, and reduces and eliminates PFAS exposure.
Provide behavioral health resources and suicide prevention initiatives for all firefighters.
Create safer communities by implementing and enforcing codes and standards, especially in the WUI and underserved and vulnerable populations, and provide affordable and fire-safe housing.
In addition to the roundtable discussion, internationally recognized scientists and leaders presented the challenges Americans face due to today's fire problem.
Facts from the summit
Despite our vast technological advances, these truths remain:
During a fire today, you have the least amount of time to safely exit your burning home than in any time in history.

Your chance of dying in a fire today is higher than 40 years ago.

Fire deaths, injuries and displacement disproportionately affects lower income communities and people of color.

Safe and affordable housing should not be mutually exclusive. A compounding problem in cities across America is that those who survive are displaced long term or become homeless due to a lack of personal or local resources.

99 million people or a third of the U.S. population now live in the WUI environment, yet most have no idea what WUI is or the dangers it poses.

Fire departments across the United States, both career and volunteer, are experiencing dramatic personnel shortages.

This situation is a national problem and without intervention will continue to worsen, affecting the ability to meet emergency call volume demand in many areas.

Technology, including micromobility products powered by lithium-ion batteries, are providing a new wave of fire causes.

Automatic fire suppression systems like sprinklers save lives, yet resistance to these devices remains.