Fire killed 3,800 and injured 14,700 people in 2021. Property damage due to fire reached $15.9 billion for the year.
Source: National Fire Protection Association
Firefighters paid a high price for this fire record as well; in 2021, 141 firefighters died on duty.
America's fire losses today represent a dramatic improvement from more than 40 years ago. In 1971, our nation lost more than 12,000 residents and 250 firefighters to fire. Acting to stop these tragic losses, Congress passed the Federal Fire Prevention and Control Act in 1974. It created the National Fire Prevention and Control Administration (NFPCA), now the U.S. Fire Administration (USFA), and the National Fire Academy (NFA).
Since that time, through data collection, public education, research and training efforts, USFA has helped to reduce fire deaths and make our communities and residents safer.
Recent news
America Burning: 50 years of fire safety and prevention
The release of America Burning was a watershed moment in the history of the fire service and fire safety and prevention in the United States. It highlighted the need for a comprehensive and coordinated approach to address fire safety and gain support for reforms.
The America Burning report also showed that while some fire-related matters are the responsibility of local communities, fire safety is a national issue that demands unwavering and concerted action.
State Fire Marshal Symposium: March 26‑30, 2023
Job vacancy announcements
Information Technology Specialist – Program Manager
GS-2210-12
The ideal candidate for this position has served as a senior IT program manager with a focus on policy and planning, network services, enterprise architecture, data management, systems analysis, systems administration, and customer service. This position starts at a salary of $94,199.
This announcement will close at 11:59 p.m. EDT on Tuesday, June 13, OR when we receive 100 applications (may be sooner than the closing date).
Find fire service career opportunities on usajobs.gov.
If you are a student interested in a fire and emergency services career, USFA's Volunteer Internship Program provides a unique opportunity to gain valuable professional experience.
USFA Organization Day
March 15
Our mission is possible!
Staff attended an all-hands meeting to provide input on the upcoming strategic plan, hear the latest updates about reorganization, share information across divisions and ask questions of USFA leadership.
USFA strategic plan:
2019 – 2023
A prepared and resilient fire and EMS
Closely aligned with FEMA's strategic plan, USFA's plan is our long-term strategy to achieve the described goals established for the safety and security of the American people. It ensures that we are positioned to impact and shape the future of the fire and EMS. USFA's initiative to take the lead on issues important to the fire service will aid in the progress toward meeting our goals.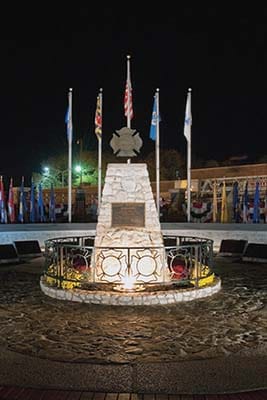 Plan a visit to the National Fallen Firefighters Memorial
The National Emergency Training Center is home to the USFA, its National Fire Academy, FEMA's Emergency Management Institute, and several monuments, including the National Fallen Firefighters Memorial.
You must show valid photo identification to enter the NETC campus. We won't accept an image of your photo identification on a cell phone or a printed copy. Escorts are required throughout the duration of your visit. Please contact the National Fallen Firefighters Foundation at 301-447-1365 to schedule your visit and escort.
Foreign National visitors: We must vet you before you can visit the memorial. For assistance, please email Merril Sollenberger at least 4 weeks before your visit.
Doing business with USFA
For information on contracting opportunities, marketing to USFA, small business opportunities, and active contracts, please visit FEMA.gov.