Create a written assessment of identified risks using a Community Wildfire Protection Plan (CWPP). A CWPP can help you to strategically document local risk and create an action plan and it will help everyone understand how making improvements to their home and the area around their home can create a more favorable outcome.
Tip: Work with your state emergency manager and/or Federal Emergency Management Agency region contact to learn how you can integrate your CWPP and other plans into an all-hazards mitigation plan. Include an evaluation of the potential effects of wildfire smoke and post-fire flooding, as well as fire evacuation needs to help create a resilient community.
Creating a Community Wildfire Protection Plan
This guide will assist you in making a CWPP. The form-fillable templates in the guide allow you to create an action plan and document assets at risk, forest/landscape health issues, and key stakeholders.
Download the guide to your device and then open it in a PDF reader to view and complete the templates. The templates will not display if the PDF is viewed with your browser.
Don't forget businesses and infrastructure.
Learn the importance of protecting public buildings, (such as hospitals, schools, and police and fire stations) and infrastructure (such as cell towers and water distribution facilities) as well as businesses to help create a resilient community.
Pre-fire planning helps communities to become more fire adapted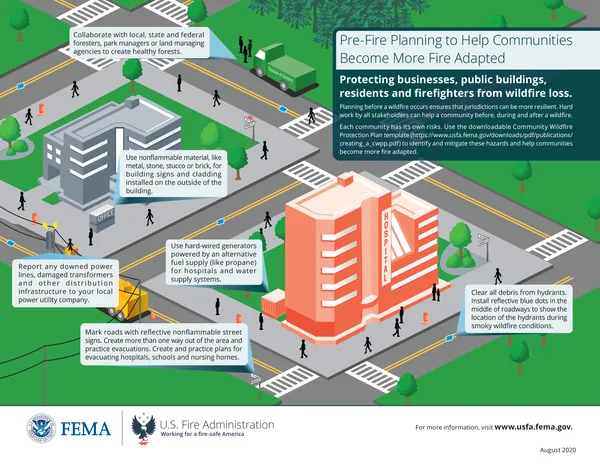 These illustrated pre-fire planning tips will help you protect businesses, public buildings, residents and firefighters from wildfire loss.
More information on how to create a CWPP