Everyone in your community has an important role in ensuring that residents can safely leave an area threatened by a wildfire. Planning, preparing and practicing simple actions as a community can help make leaving quicker, easier and safer for residents and first responders, reducing the possibility of injury or worse.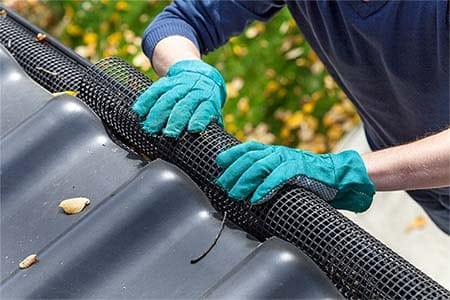 Take action
Wildfire evacuation planning considerations should encourage neighbors within the wildland urban interface to work together to reduce their shared ignition risk by making improvements to structures and the landscapes surrounding them.
Pre-fire: Plan, prepare and practice before a wildfire occurs.
Residents may need to evacuate if there is a wildfire. To help save lives, local fire department and law enforcement authorities should plan, prepare and practice with residents before a wildfire occurs.
Plan
Encourage residents to sign up for local emergency alerts and warnings on their home phones, cellphones and other devices. They can get alerts when a wildfire is reported in their chosen ZIP code or within 30 miles.
Inform residents about the community's emergency notification and evacuation plans. Help them plan primary and alternate routes out of their neighborhood and community.
Encourage them to make sure their designated contact knows their plan and how they will communicate that they are safe. Sometimes using text messages or notifying contacts through social media channels may be a better alternative than relying on cellphone calls.
Encourage residents to know their workplace, school and commuter route evacuation plans.
Tell people to leave early, especially if they have small children, pets, livestock, physical challenges or other concerns that need additional assistance or lead time.
Planning for roadway safety during wildfire evacuations
Identify an all-hazard plan and work with the local road and maintenance entities to ensure roads are prepared for a safe evacuation.
Reduce fuel loading along and above roadways.
Widen roads.
Ensure there are 2 ways out of a community.
Make sure everyone knows how to open a gated exit route.
Identify load limits and make sure they are posted on bridges for responding emergency vehicles.
Install culverts constructed of materials that will not melt.
Prepare
Teach residents about the importance of backing vehicles into the garage or parking in an open space facing the direction of escape and to always keep the gas tank in vehicles at least half full.
Teach them to prepack kits with essentials, like medicine, family records, important phone numbers, cash (ATMs may not work), credit cards, a change of clothing and enough food and water for each household member for up to 72 hours for everyone in your household, including pets.
Creating community safe zones
First responders should work with residents to develop best practices for wildfire evacuations. This includes creating community safe zones within communities and along evacuation routes that can be used as a "last resort safety zone."
Important considerations for these zones are:
Safety zone design, specifically what fuel setbacks are needed and what (person and/or vehicle) capacity is required.
Safety zone density: how many zones are needed and where they should be placed.
Practice
Encourage residents to evacuate with everyone in their home and to know at least 2 ways out of their neighborhood.
Conduct a community drill. If something is noticed that could hinder successfully leaving during an evacuation such as a locked gate, address it immediately.
Help residents practice evacuating animals and pets, using their plans and updating resources they may need for their care.
During a wildfire event
Explain how important it is to stay aware of local fire conditions and, if needed, be prepared to leave at a moment's notice. When told to evacuate, go promptly. If residents feel unsafe, they should not wait for an evacuation order—leave immediately. Let them know that when they wait until the last minute, the roads may have heavy traffic. Also, thick smoke, blowing embers and debris from the fire can make it hard to see and compromise vehicles' engines.
Encourage residents to keep cellphones charged in case the power goes out.
Discourage them from driving out with trailers or large vehicles like RV's, especially if they are unfamiliar with operating them. Explain that a stalled or abandoned vehicle will make it hard for others to leave and for first responders to get into the area.
Remind them to continue to listen for additional evacuation instructions and keep car windows up and air conditioning on to prevent embers and smoke from entering the vehicle.
After evacuating safely, tell residents to:
Wait for guidance about returning to their home. Explain guidelines for bringing fresh water and supplies.
Seek assistance immediately if someone is injured or not feeling well.
Inform their designated contact as soon as they are safe.
Outreach content to
share with

your community

Share the checklists and social media messages below with your community to help them evacuate quickly and safety from a wildfire.
Create a wildfire evacuation plan
A comprehensive wildfire evacuation plan includes actions to take before, during and after a wildfire evacuation. It should include a family communication plan and emergency supply kits.
Share the checklists below to help community residents create a wildfire evacuation plan.
Evacuation checklist
Simple tips to share with residents that can help make leaving their homes quicker, easier and safer in the event of a wildfire.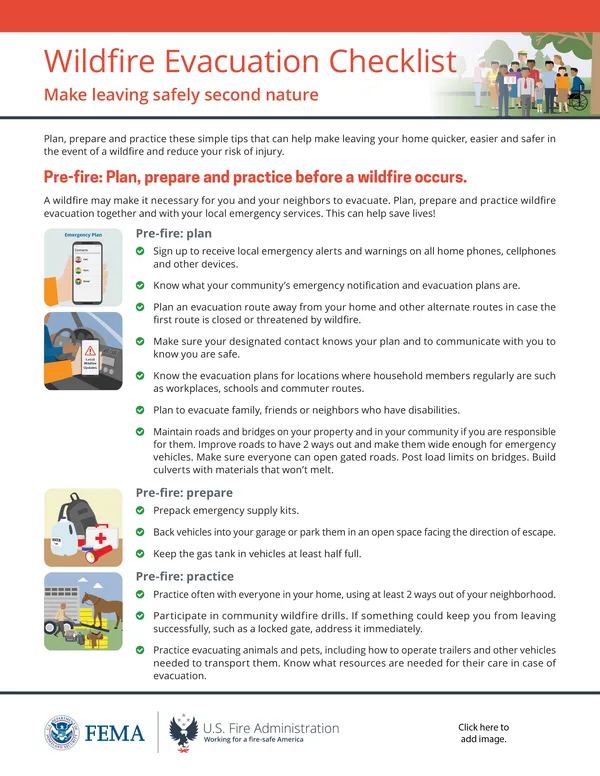 Social media cards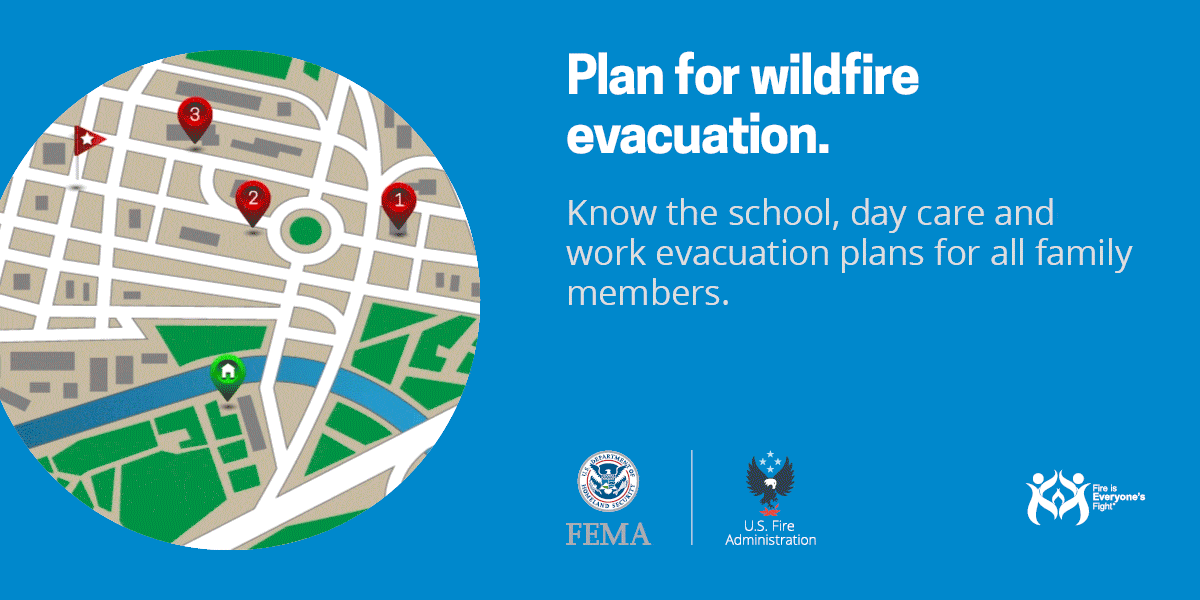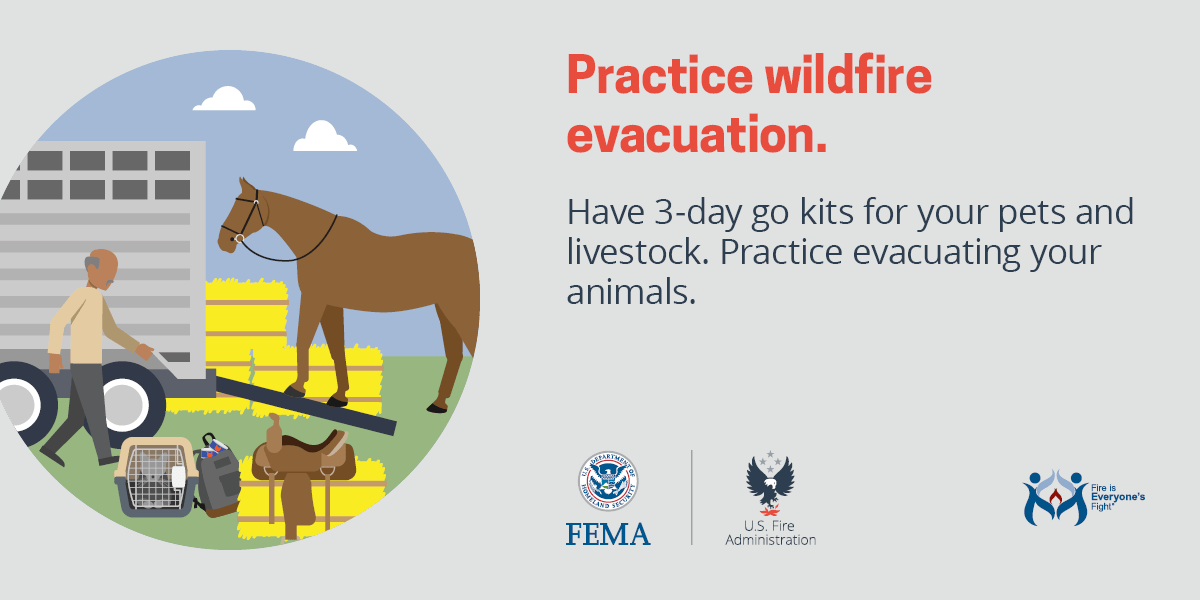 Use our wildfire safety social media card collection to share important messages with your community about what to do after evacuating from a wildfire. Available in English and Spanish.