Campus monuments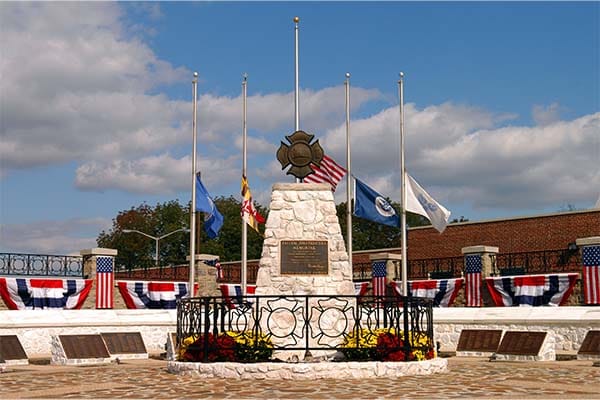 National Fallen Firefighters Memorial
Since 1981, the National Fallen Firefighters Memorial, located on the campus of the NFA, has stood as the national symbol of honor to America's firefighters. In 1990, the U.S. Congress designated the monument as the "official national memorial to volunteer and career firefighters who die in the line of duty."
The 7-foot stone monument features a sculpted Maltese Cross, the traditional symbol of the fire service. An engraved plaque on the monument bears a message from President Ronald W. Reagan. At the base of the monument an eternal flame symbolizes the spirit of all firefighters — past, present and future. Plaques encircling the monument list the names of the men and women of the fire service who have died in service to their communities since 1981.
A Wall of Honor around the monument holds plaques with the names of firefighters who died in the line of duty. A brick Walk of Honor® winds through the beautiful campus, connecting the monument site to the historic National Fallen Firefighters Memorial Chapel.
When a firefighter dies in the line of duty, the U.S. Fire Administration posts a notice of the death at the monument and lowers flags at the site to half-staff.
---
To Lift a Nation (The 9‑11 Monument)
In 2007, the "To Lift a Nation" statue created by sculptor Stan Watts was added to the National Memorial Park. This 40-foot tall bronze monument was created to honor the heroes of Sept. 11, 2001. The 3-times life-size statue recreates the now-famous photo taken by Thomas E. Franklin, a photographer for the Bergen Record, who captured the image of 3 firefighters raising the American flag at Ground Zero.
The monument stands 40 feet high, 6 feet deep, and 8 feet wide. Each of the 3 firefighter statues weighs more than 5,000 pounds and was formed from approximately 160 bronze sections weighing between 60 to 80 pounds each.
---
National Civil Defense/Emergency Management Monument
Dedicated on April 6, 2002, this monument honors the many civil defense and emergency management professionals and volunteers who have worked hard and faithfully to protect the public from both man-made and natural hazards.
The centerpiece of the monument is a 15-ton block of polished white Vermont granite, shaped as a 3-sided pyramid, representative of the federal, state and local governments and their efforts in working together to accomplish a joint mission. The triangular base is 5 feet on each side, rising to 15 feet in height.
The pinnacle of the monument is capped with a large, bronze American eagle, sculpted by the world-renowned sculptor, Lorenzo Ghiglieri. The base is encircled by a stone and concrete plaza with appropriately inscribed bronze state plaques embedded in concrete, surrounded by a circle of state flags.